Creative art & technology curriculum

Join in-person & online for total flexibility

Learn with AJ studio learning app 24/7

AJ Studio's purpose is to support students in real life, beyond the classroom





Learn with us anytime anywhere
Lessons & more every week
Learn science, technology, engineering, arts and maths

through AJ Studio's weekly art, design and technology classes, in-person or online.
Don't just copy, draw, and paint
pretty pictures.
Learn real skills
through our unique STEAM learning curriculum to
harness the
magic of your creativity
.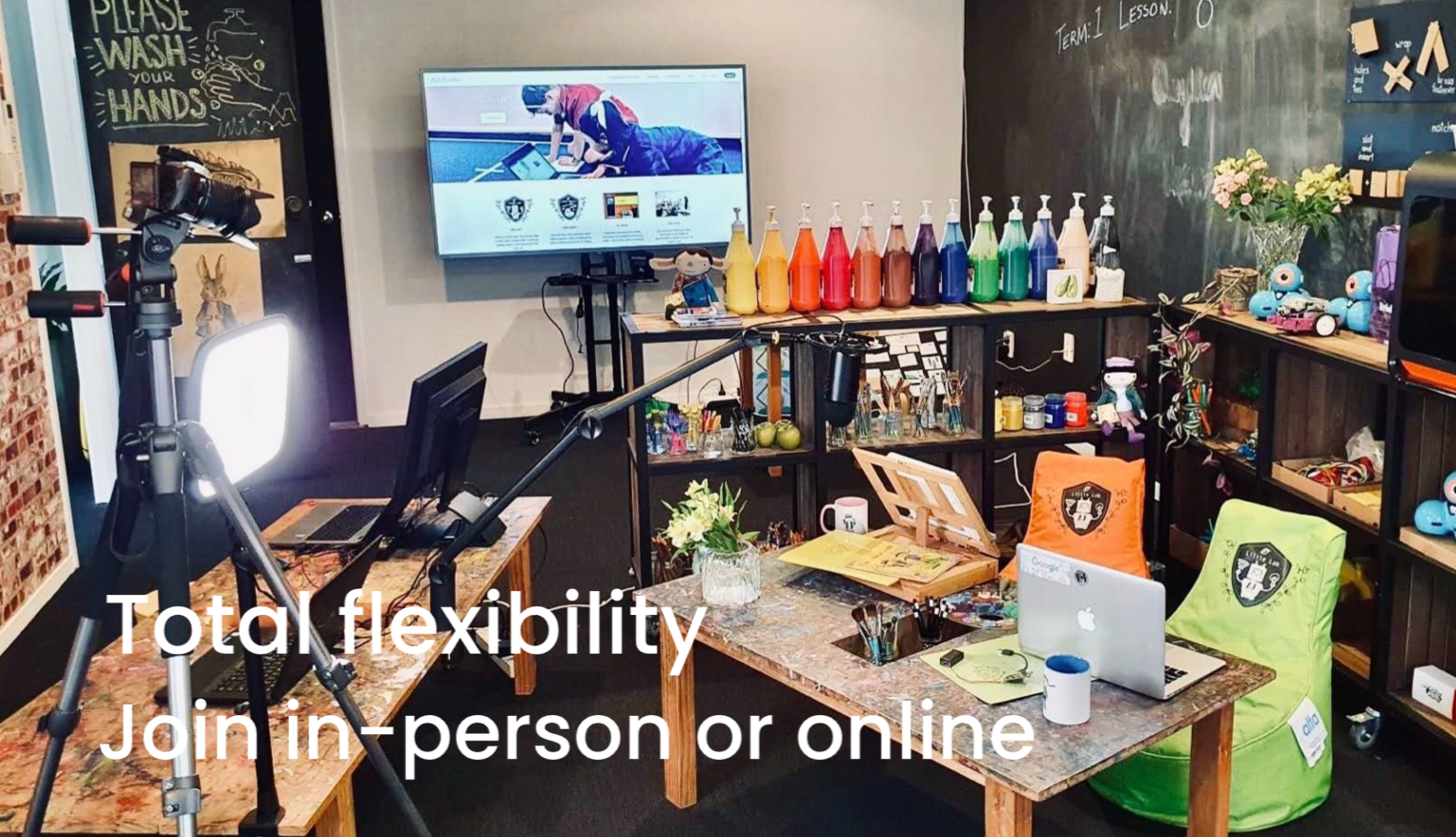 WE ARE
SERIOUS
ABOUT CREATIVITY
As an all round creative studio, we support students in real life, beyond the classroom. Via creatively constructive STEAM-learning workshops, we unpack complex concepts in fun, immersive ways, providing AJ students with a deeper understanding of the world around them.
Captivate | Entertain | Grow
Welcome to our world- a space where science and creativity work hand-in-hand; to captivate, entertain and grow young hearts and minds. Start your child's active and long-lasting meaningful learning with AJ Studio.
The Best Things Take Time
Here at AJ Studio, we understand that the best things take time, which is why we have a dedicated team of full-time qualified professionals busily working behind the scenes on our ever evolving curriculum. The wide range of workshop options, both physical and digital - all of which are designed specifically for the in-studio, on screen, or in-app use, leading to only the best user experiences for AJ students.
We Unpack the "But Why's?" with you
Meaningful learning is more complex to master. It involves understanding how all the pieces of an entire concept fit together. We will unpack the "but why's?" with you, provide a deeper understanding of the world around you.
Just as food eaten without appetite is a tedious nourishment, so does study without zeal damage the memory by not assimilating what it absorbs."
THE AJ STUDIO DIFFERENCE
We're all about active, constructive and long-lasting meaningful learning. Our purpose is to support our students in real life, beyond the classroom, by arming them with knowledge that can be retained and applied to solve real problems in different contexts, throughout their lifetimes.
Private Workshop
Take Me There
Our one-to-one private lessons are designed to work around you. Need some assistance honing those expert coding skills? We can help. After a specific lesson time that work around your busy schedule? We've got you. Or perhaps your small person doesn't love social settings but likes the idea of in-person learning with a dedicated teaching buddy? We've got you too.

Simply tell us what you're after and when suits your family, and we'll do our best to match you with one of our clever and lovely tutors.

Private lessons can be completed in studio or online.
Holiday Programmes
Take Me There
From learning how to watercolour, code and sketch exciting differs, tools, and buildings from a New York Times bestseller, to coding a never-ending web for Charlotte, our eight-legged spider friend from a children's classic novel, our holiday workshops are packed full of hands-on, thought-provoking fun that our kids can't get enough of.

Available in person at our Remuera studio, online via our bespoke e-learning programmes, or via a combination of the two, our school holiday programmes are continuously expanding their knowledge base, and that you as the likely workshop funder, are getting genuine value for your money.

While our course content is fluid, we always have both short and longer full-day options available, which cover a range of different exciting multi-disciplinary topics.

Spaces for our holiday programmes fill up fast, so keep an eye on our website for details of our next holiday intake.
Not based in Auckland? No Problem!
While our physical brick-and-mortar studio is in Remuera, Auckland, distance is no barrier for our comprehensive e-learning programmes which can be accessed from any device with internet connectivity, 24/7.
DISTANCE IS NO BARRIER!
Video

Text Material

Assessments

Certificate
To join online, simply choose from our full range of term-based live-streamed Art and Creative Lab™ classes that has an
'
Available in-person & online'
symbol.
A room hung with pictures is a room hung with thoughts.
Joshua Reynolds
sign up for news and exclusive offers
Sign up to our mailing list today!
one-click unsubscribe

tips, deals and offers